And you're just going to have to excuse us for all the football metaphors on this one, as classic football comics strip ROY OF THE ROVERS is getting a fresh trimming of the grass, laying of the pitch paint and re-bulbing of the floodlights for a new version of the iconic British comics property, due to hit shelves from this October.
Rebellion Publishing – the gang behind 2000AD and other cracking homegrown titles – have announced the creative team for this title that harks back to the Golden Age of British Comics, including writers Rob Williams and Tom Palmer, and artist Ben Willsher, with a series of graphic novels and prose novels on the way.
International readers may not know this but, before all of the sci-fi and superhero titles that filled UK comics spinner racks as they did Stateside, the Brits also had a hankering for a whole slew of football strips, with weekly comics such as THE ROVER, TIGER, and THE HOTSPUR each having popular strips inside alongside all of the war and action strips, and dedicated comics such as SCORCHER and SCORE selling great guns in the '60s and '70s. ROY OF THE ROVERS, created by Frank S. Pepper in 1954, first appeared in the pages of IPC Magazines' TIGER and became an instant hit with both boys and girls across the country.
Now striker Roy Race will return in three 56 page graphic novels from Williams and Willsher, to published throughout a specific football season (in September 2018, and then January and April 2019), and joined by a middle grade prose book from Palmer, following hot on the heels of each GN release.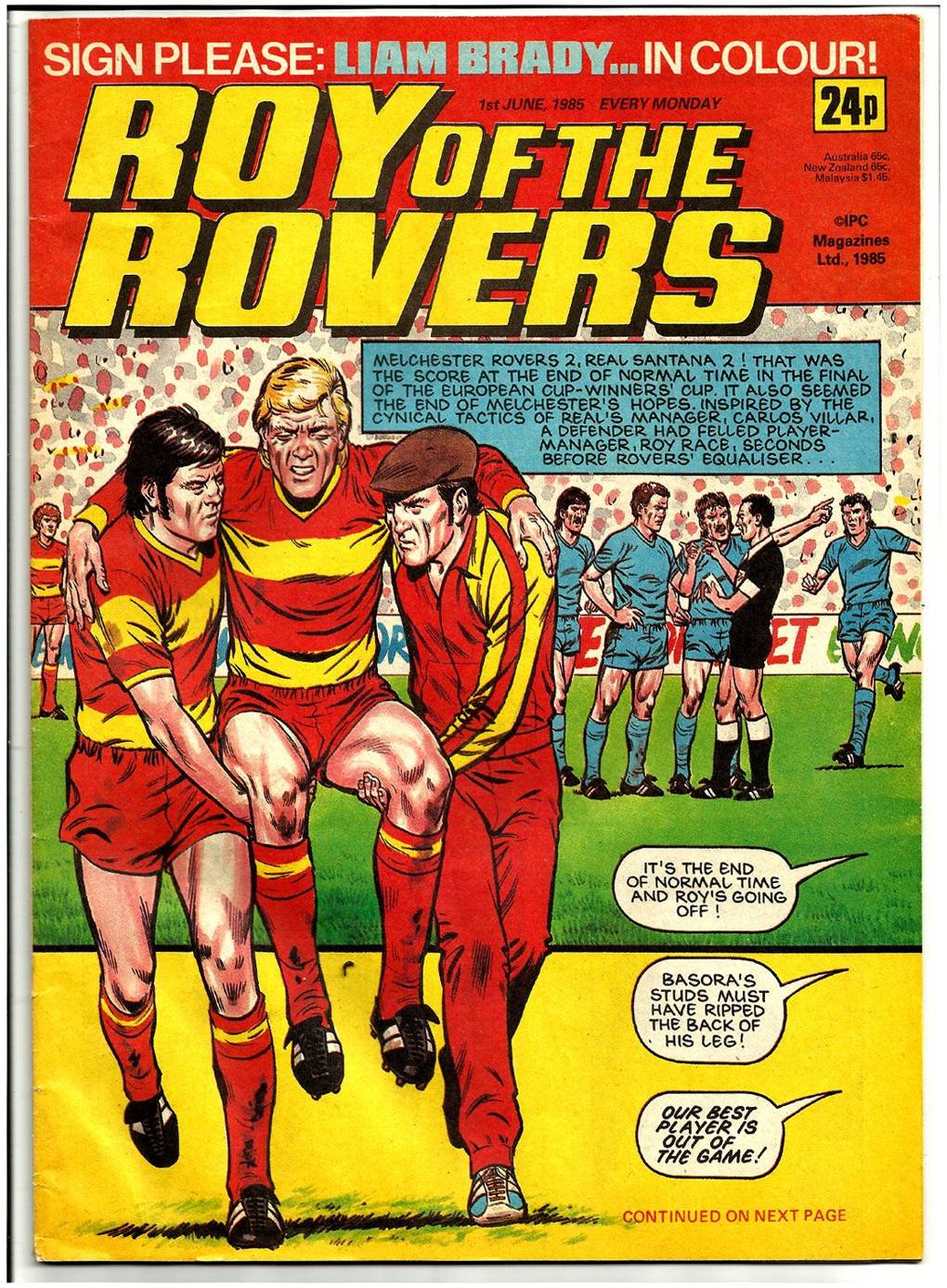 Safe to say, Rob Williams is excited to be part of this historic rebirth of the strip: "I read and loved ROY OF THE ROVERS as a boy – I even had the old Gola Melchester Rovers kit – and I have very fond memories of the Roy annuals arriving on Christmas Day with wonderful David Sque art on their covers. Roy's a British football icon. Even now, a 'rocket'-like goal is a ROY OF THE ROVERS moment. So I'm delighted to be part of the passionate team bringing Roy's adventures to a new era of football fan."
The novels will be an interesting sell, seeing as they're a brand new format for Rebellion and are going to be coming in a different format than even old school ROTR fans would recognise. Still, Tom Palmer is not phased as he sees it as his goal to help revive the franchise for a new generation: "Millions of girls and boys dream about being their favourite football player and being scouted and playing for their favourite team. I had that dream. Sadly it didn't come true for me. But, being scouted and succeeding in my trial to write ROY OF THE ROVERS fiction is a dream that has come true. There is no other fictional footballer I would rather be and write. And I intend to write these books with the same passion and commitment Roy shows when he pulls on the red and yellow of Melchester Rovers."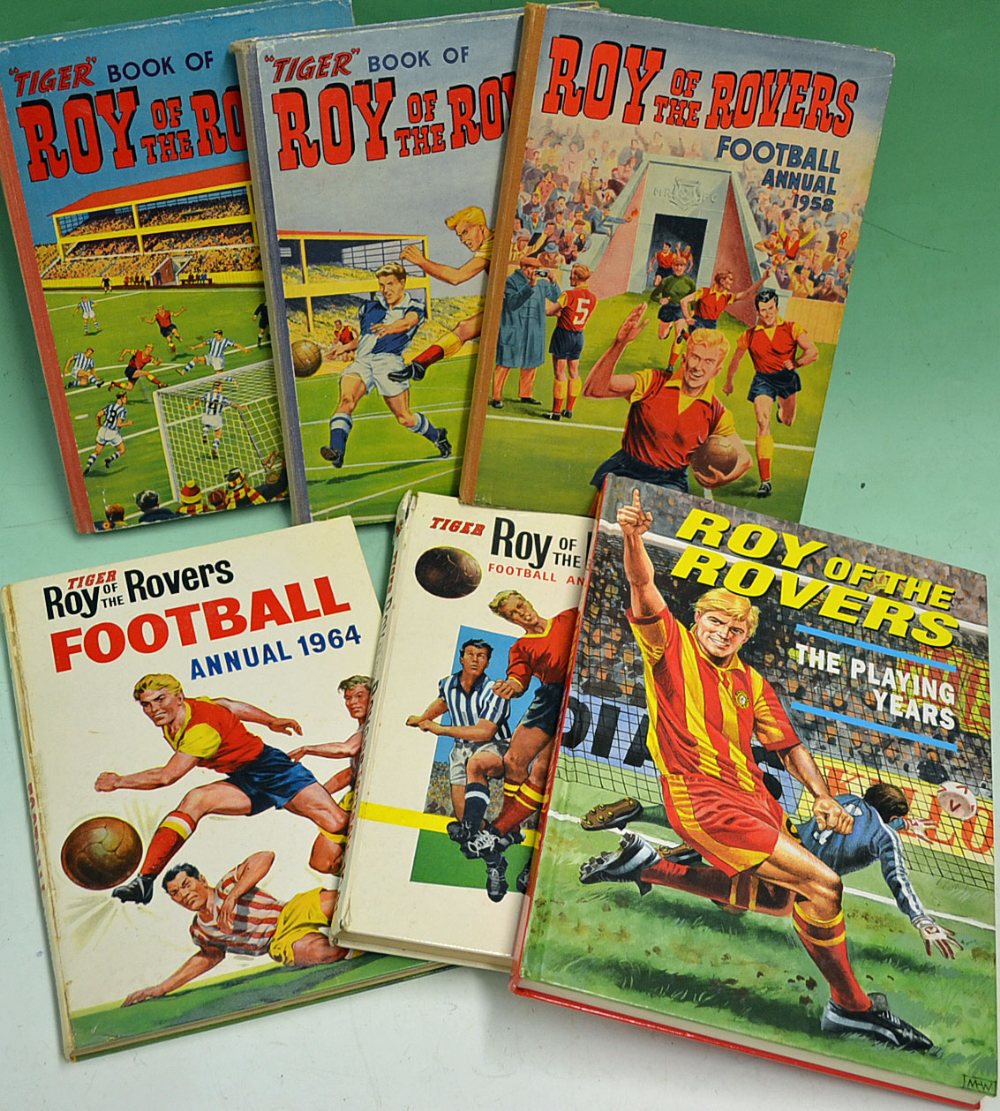 Exciting stuff – even to a non-sports chap such as myself (on Saturdays, I left the pitch antics for things such as cider, games of pool and girls). you can follow along with all of the latest announcements and updates the new dedicated webpage for the title, at www.royoftheroversofficial.com
---
Here's the full press release, courtesy of Rebellion Publishing:
PHENOMENAL UK TALENT FROM THE WORLDS OF COMICS AND CHILDREN'S FICTION SIGN ON FOR THE RETURN OF A FOOTBALL ICON
Rebellion Publishing is proud to reveal its latest set of signings: the creative team for the highly anticipated 2018 reboot of ROY OF THE ROVERS.
Internationally acclaimed comics writer Rob Williams (AMAZING SPIDER-MAN, ADVENTURES OF SUPERMAN) and artist Ben Willsher (2000AD, DOCTOR WHO MAGAZINE) are the team behind the brand new ROY OF THE ROVERS graphic novels, beginning with ROY OF THE ROVERS: KICK-OFF, to be released 6 September 2018.
Best-selling children's author Tom Palmer (FOOTBALL ACADEMY, FOUL PLAY) takes the lead on ROY OF THE ROVERS; SCOUTED, Rebellion's first foray into middle grade fiction, to be released 4 October 2018. Also on the ROY OF THE ROVERS team sheet is graphic novel editor Keith Richardson, and Rob Power, who will be editing the middle grade fiction alongside his role as ROY OF THE ROVERS Brand Manager.
Rebellion CEO Jason Kingsley OBE: "Roy of the Rovers is an enormously exciting project for us, and we've been working hard to ensure that we respect the legacy of this iconic British character. We've assembled an incredibly strong team to bring Roy Race back for the 21st century, and I look forward to following Roy's journey through the always exciting world of modern football."
Rebellion Head of Publishing Ben Smith: "We're delighted to have such a high calibre of creative talent on board for our reboot of ROY OF THE ROVERS. Rob, Ben and Tom's stories are bursting with all the excitement, drama and football fervour of the classic ROY OF THE ROVERS comics, while giving us a thoroughly modern take on the character. We can't wait for a new generation of fans to read them."
THE CREATIVE TEAM
ROB WILLIAMS is a writer, mainly of comic books. He is currently writing
SUICIDE SQUAD for DC Comics, where his previous credits include MARTIAN MANHUNTER, BATMAN 66, SENSATION COMICS, ADVENTURES OF SUPERMAN, LEGENDS OF THE DARK KNIGHT, and MADAME X. He has also written DOCTOR WHO: THE ELEVENTH DOCTOR for Titan Comics, and AMAZING SPIDER-MAN, WOLVERINE, CAPTAIN AMERICA AND THE FALCON, and REVOLUTIONARY WAR for Marvel.
His Rebellion credits include JUDGE DREDD, THE TEN-SECONDERS, and THE GREVIOUS JOURNEY OF ICHABOD AZRAEL for 2000 AD. Rob supports Arsenal. In 5-a-side, he is, sadly, more Nigel Winterburn than Thierry Henry.
For more information, visit www.robwilliamscomics.co.uk
TOM PALMER is the author of 40 books for children about sport
and history. His books include the FOOTBALL ACADEMY and FOUL PLAY series, published by Puffin, as well as OVER THE LINE, a fictional account of the World War One Footballers' Battalion. Tom is a regular speaker in schools and works closely with organisations like the National Literacy Trust and the
British Council to promote reading for pleasure.
His website is www.tompalmer.co.uk
BEN WILLSHER is a British comics illustrator, whose credits include JUDGE DREDD, DURHAM RED, STRONTIUM DOG, THARG'S FUTURE SHOCKS and SINISTER DEXTER for 2000 AD, alongside extensive cover work for both 2000AD and the JUDGE DREDD MEGAZINE. Ben has also illustrated several stories for various DOCTOR WHO annuals, and his work has been regularly featured in the DOCTOR WHO MAGAZINE.
For more information, visit www.benwillsher.co.uk