Golden Apple Books announced details for their debut at WonderCon 2018. The publishing arm of the Golden Apple store in Los Angeles will be debuting 3 new titles at the show (BLASTOSAURUS, ADVENTURE VAN, and SPARROW). In addition they will be hosting a Creator Spotlight Panel on the Saturday of the show.
More information is below courtesy of their press release.
Golden Apple Books Officially Launching at WonderCon
New Comics from Musician Lindsey Stirling and artist Darick Robertson, Actor Michael McMillian, and Voice Actor Paul Eiding and artist Richard Fairgray
Golden Apple Books is set to conquer the comics industry by making an official debut at WonderCon 2018 at booth #804. The publishing arm of the world famous Golden Apple retail store in Los Angeles has three new titles to showcase at our booth as well as our Creator Spotlight Panel on Saturday March 24 at 10:30am-11:30am in room North 200B.
BLASTOSAURUS: All-new reboot of New Zealand's top-selling indy comic for the last 10 years by creator Richard Fairgray. The prequel story helps set up the full series which follows Blastosaurus, a 6-foot-tall mutant triceratops, and his two precocious 12-year old sidekicks, as they investigate the weird things that go on in Freak Out City. They take on everything from robots and monster dogs from another dimension, sentient plant armies and ghosts to evil corporations conducting experiments on unwilling demons. All the while, they're trying to answer their biggest question — where did Blastosaurs come from?

This is a perfect all-ages comic for fans of GRAVITY FALLS, TEENAGE MUTANT NINJA TURTLES, HELLBOY, and WILL EISNER'S THE SPIRIT. Richard has written and drawn over 200 comics and this is his first comic to debut in the United States. Blastosaurus is co-written by legendary voice actor Paul Eiding (TRANSFORMERS, / METAL GEAR SOLID / BEN 10) and the team delivers a fun and exciting story for fans of all ages. Issue #00 will be available for the first time anywhere with FREE autographs and doodles for all! (Guide: All-Ages)
ADVENTURE VAN: The brainchild of actor Michael McMillian. Among an impressive list of credits, Michael was a series regular on HBO's TRUE BLOOD and is currently on CW's CRAZY EX-GIRLFRIEND. We will be giving away a FREE special preview edition of ADVENTURE VAN all weekend long. Michael is joined by series artist Ryan Cody on Saturday only. The issue gives an introduction to our main characters on Earth and gives a glimpse of what is next to come for our flawed hero and his crew on Earth and beyond. Fans of NAPOLEON DYNAMITE, MASTERS OF THE UNIVERSE and BACK TO THE FUTURE will love this! (Guide: 8 to Adult)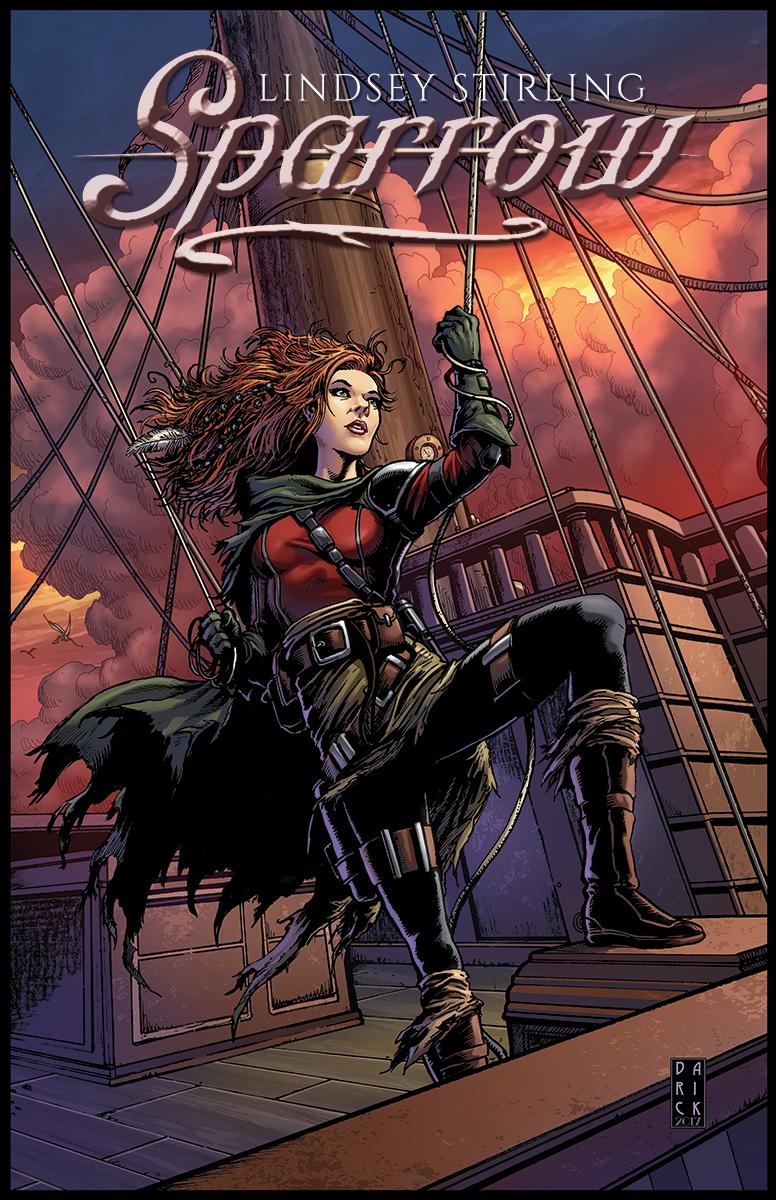 SPARROW: The comic series stars musical sensation and YouTube mogul Lindsey Stirling (DANCING WITH THE STARS) as the main character, along with her internet-famous dog and bestie, Luna. The series is created, written and drawn by Darick Robertson (HAPPY!, THE BOYS, TRANSMETROPOLITAN, etc.) with additional co-writing from R. Eric Lieb (CBGB, TURISTAS) and inks from seasoned pro Brandon McKinney. This fantastical, all-ages story follows a girl struggling to survive in a world where light and hope are quickly disappearing. After finding a piece of an ancient object and stowing away on a pirate ship, Sparrow embarks on an incredible journey, discovering that by being strong and brave, one girl can not only find her place in the world, but she can change it. FREE poster and a new limited edition print by Darick Robertson available exclusively at our booth. (Guide: All-Ages)


"I can't wait to share with everyone these new worlds and amazing stories from our exciting creative teams!" – Ryan Liebowitz, Co-Founder Golden Apple Books