Home
Competitions
WIN! Pair of tickets to incredible off-site bash, SHERLOCKEDCC by Baker Street...
San Diego Comic-Con might have wall-to-wall attractions during the day but it's when the sun goes down that attendees really get the chance to mingle with their fellow nerds and party like there's no tomorrow.
There are some truly spectacular off-site events to tempt those party people with energy left over from panels and presentations but one of the most eagerly anticipated is one curated by the all-female collective of Sherlock Holmes fans known as the Baker Street Babes – SherlockeDCC.
Held on the Friday of Comic-Con – 22nd July, 7.30pm – 10pm – and occupying the 9th Floor of the very swish (and academically appropriate) San Diego Public Library, the bash is an acknowledged must-attend for any fan of any iteration of Arthur Conan Doyle's renowned sleuth.
As well as bonding at fellow Sherlockians, there's plenty to experience while at the party, too, with themed drinks, vendors, prize giveaways and quizzes galore. All tickets holders get themselves a cracking swag bag with freebies and badges to take away. You also never know who you'll bump into as previous years have seen cast and crew of the shows and films, popping by!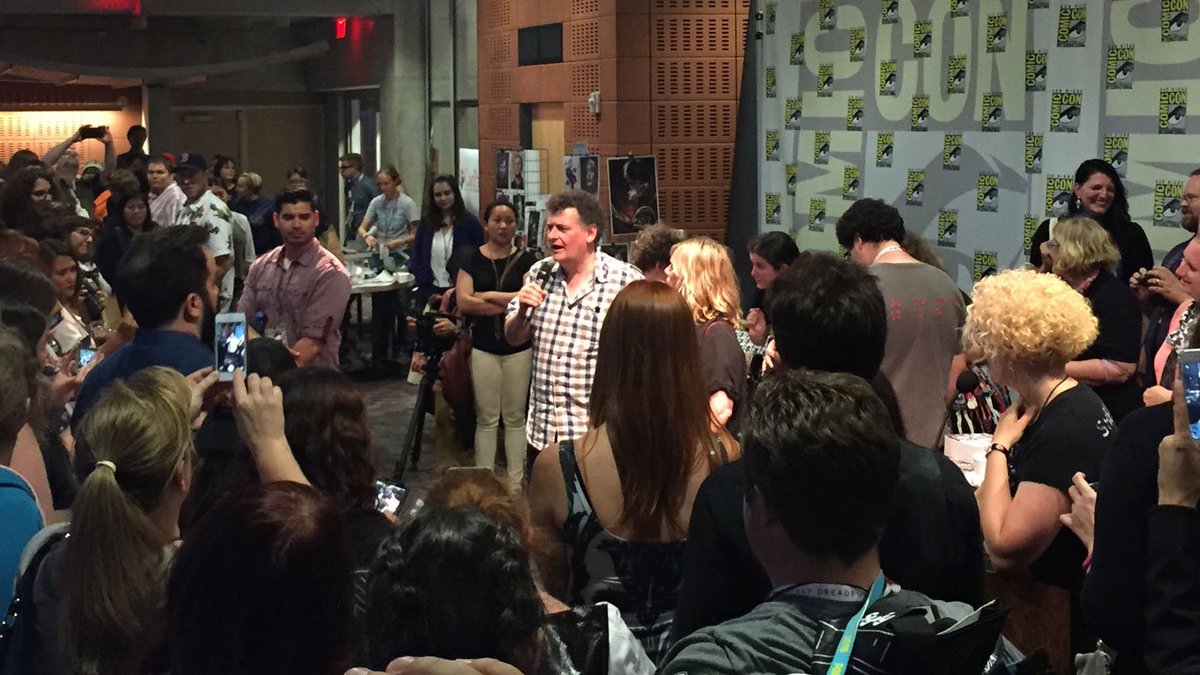 Tickets went on sale for this event on Sunday 1st May (5pm GMT / 9am PT / 12 Noon ET) and are expected to sell quickly so head to http://sherlockedcc2016.bpt.me/ to pick up yours today!
Check out the 'Return Of SherlockeDCC' post on bakerstreetbabes.com for more details and, of course, keep an eye on the event's Tumblr page for updates as we get closer to July!
---
The Baker Street Babes will be joining us on this Sunday's Talkin' Comic-Con: A Cup O' Tea with… hangout to talk about what they've got planned for this years event, as well as talking about the challenges of hosting a major off-site in the midst of the biggest concentration of nerd celebration of the year.
The Babes will also be choosing a lucky winner of a PAIR OF TICKETS to this years SherlockeDCC in a GIF Party competition in conjunction with An Englishman In San Diego, live on the show!
To be in with a chance of landing these much-prized tickets, you have to send to us your very best Party, Dancing and Celebration themed GIF's, either Tweeting them, using the hashtag #SherlockeDCCparty (or, if you're not so Twitter inclined, posting them to our Facebook page or Google+ pages or even mail them to competition@anenglishmaninsandiego.com)!
Sure, you can use the default GIF's out of Twitter's GIF Keyboard, sure, but we know that you Sherlock fans can be a lot more creative than that! The one that gets the biggest thumbs up from the Babes will get their hands on the pair of SherlockeDCC tickets. Result!
Entries will close at 12 Midday GMT (4am PT / 7am ET) on Sunday 8th May, giving the ladies plenty of time to check over your entries before we go on air. Best of luck!